Corporal Oliver 'Olly' Fick
HALO Jump Music: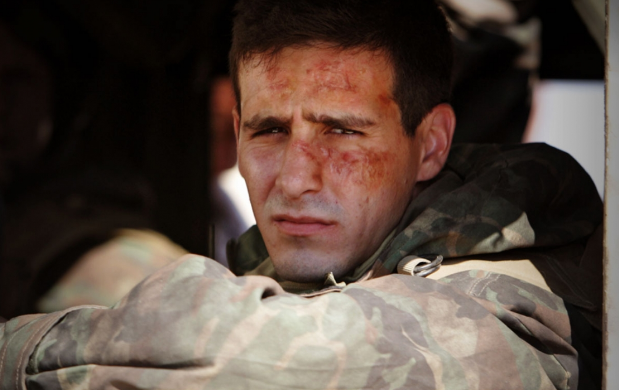 Character Summary
Renegade<████████ | ████████>Paragon
Morale
Awful<██████|██████>Not Awful
"You know it's going to be a long tour when there isn't even a green light for the jump. I thought it was feet first, not nose first. Damn Russians. I might have lost my entire fucking platoon out there."
Name: Oliver Fick
Aliases: 'Olly', 'Havoc 3-1'.
Age: 24
Birthday: October 8th
Ethnicity: Caucasian
Nationality Canadian
Hometown: Edmonton, Alberta, Canada.
Gender: Male
Languages: English, French.
Religion: Agnostic
Specialization: Autorifleman [Paratrooper]
Height: 5'6"
Weight: 136 lbs
Eyes: Hazel
Hair: Brown
Skin Tone: Pale
Habits:
Trimming/Cleaning Fingernails
Chewing Gum
Hobbies:
Reading
Board Games
Hockey
Likes:
Alcohol
Cats
Explosions
Thrill Activities (sky-diving, rollercoasters, etc)
Horses
Cold Weather/Snow
Candy
Conversation/Bullshitting
Blanket Piles & General Coziness
Dislikes:
Mornings
Thunderstorms
Boots/Greenhorns
Cities
Marijuana
Brass
Training & Qualifications:
Parachuting, reconnaissance, land navigation, assault courses, ambushing, survival, mountaineering, urban warfare, CBRNe defence, CQC, riot control, advanced first aid/CLS qualification, fast roping, and counter terrorism.

Standard Loadout

1x FN Minimi 7.62 Light Machine Gun w/ PEQ-2A & Elcan M145 Optic
4x 200 Round Box Magazines
1x IFAK/PAK [Medical Supplies]
2x Green Chemlights
4x Yellow Chemlights
3x White Smoke Grenade
1x Green Smoke Grenade
1x Fragmentation Grenade
1x Entrenching Tool
1x Maglite XL50
2x Canteens of Water
5x MREs
2x Humanitarian Ration
1X Mess Kit
1x Leatherman Multitool
1x C1 Bayonet
1x CRBN Clean-Up Kit + Gas Mask
1x Sleeping Bag
1x AN/PVS 14 NVGs
1x Short Range Radio
1x MicroDAGR + Vector 21
Extras
Character Quote:
Face Claim: James Ransone
Criminal Record: Clear Record
Anything Else:
Relations
⚜ Respects ~*~ ☯ Neutral ~*~ ☮ Allies/Liked ~*~ ♫ Good Friends ~*~ § Tense ~*~ ⚤ Loved/Significant Other ~*~ ☠ Dislike~*~ † Deceased
♫ ⚜ Alice Walcroft:
"The most innocent and civilian interaction I've had in years. Now that I got to see her again, I worry that the conflict really took a toll on her. She's just not the same, but no one is when they get shot at every day. I'm probably really naive about all this. This is a war, I shouldn't be worrying about this."
♫ ⚜ Erika Descoteaux:
"I don't think I would have made it through Turkey without her. Determined, efficient; the best battle buddy I've ever had. War just isn't the same without her French-ass out here, blowing up T-72s with that launcher of hers. I can only hope she, of all of the platoon, made it out of that jump alive."
☮ ⚜ Riley Marshall:
"What a leader. He's a Corporal, yet he leads like a Sergeant or a Leftenant should. I'd follow him to my death, and he's not that bad of a guy either.
☮ Earl Magnussen:
"A United Nations peacekeeper who admits to the UN's failings. I like him already, even if he's an old man."
☮ Julio Aguayo:
"He's the definition of a standard soldier, and I like that about him. Good man, good doc'."
☮ Milo Hadren & Security Friend:
"Press. There always has to be a press person in war. I like these folks, though. They aren't in it for the money, just the collection of history. Difficult to manage, but I understand.
☮Adrian Connolly:
"He means well, and he's a good trooper. No complaints."
☯⚜ Jackson Tanner:
"You know, I don't like the guy like I would a friend. He's an officer, one that I would follow to the word. He does his job, and I like that. That's as far as it goes."
☯ Tam Bui:
"What's a Vietnamese MP doing in Ukraine? I have a bad feeling about this"